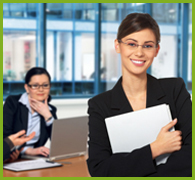 Management theories are evolving and methods are being manipulated. Necessities required to run a business have just become facilitators and facilitators have become indispensable. The greatest role change has been in the form of Human Capital: a facilitator in the past to an imperative element in the times to come. Human Capital is the only aspect, which NOW has the power to revolutionize your success and launch growth. But there is a deficit!!!! A deficit, of not labor but skilled-labor.
We at Humresource aspire to gap up this deficit and turn it around to a surplus. Humresource is focused on providing high quality staffing and consulting solutions that are best-in-class and fit the changing needs of the industry. We provide Customized Human Resource Services to corporate houses and companies across varied industries that want their people to grow and achieve success for themselves and the company.
At Humresource we believe that people are the most important resources a company has and they should be nurtured and developed. Our expertise lies not only in aligning your business needs to people but also aligning your people's needs to your business. This unique communication strategy propels a sensibility that is mutual and not bureaucratic.
We aim to assist professionals in maximizing their personal impact. This can be made possible by arming them with the necessary new skills and behavioral patterns, essential for the rapidly changing and highly competitive marketplace.
Selection Tools
Expert Team: Team of experienced professionals working at Humresource
Our Database Pool: We have a vast database pool of candidates from different industries across different geographical locations.
Job Portals: We also use the unlimited talent pool available on Job Portals. We also have our own Job Portals to get quality database.
Head Hunting: We use headhunting to get most suitable candidates especially for senior level management at the same time, we stick to our ethos to remain outside our clients' talent pool.
Campus Recruitment: We undertake campus placements and have many campus registered with us.
Advertising: We advertise on behalf of our clients to pitch the mass.
Social Networks: We have our social media pages and communities.
Email / SMS: advertising and indications.